How To Become A Phlebotomist
Thinking of becoming a phlebotomist? Interested in what it takes to become a phlebotomist? Well, you may be on to something big, as they say.
Over the past couple of decades, the trained, certified phlebotomist has become an integral part of the health care field. And, as the specialization has grown and matured, the employment opportunities have grown, as well. The types of facilities that hire certified phlebotomists have increased, also. Whereas, previously, a phlebotomist would only be found in a hospital, now it is not uncommon to find a certified phlebotomist in doctor's offices, independent diagnostic labs, plasma centers, and more. And, of course, hospitals are still a major employer of certified phlebotomists.
Demand for certified Phlebotomists is high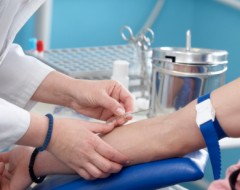 Among the many positives of becoming a phlebotomist is that the demand for professionals in this field is currently strong and projected to remain strong for the foreseeable future. In fact, the U.S. Bureau of Statistics projects a growth rate of about 25% through the year 2024 for phlebotomy. And, of course, when demand in a field is strong, it usually results in a growing wage scale. With widespread opportunities available and the possibility of more to come, what a great time to choose to become a phlebotomist.
Steps to become a Phlebotomist
Step 1: Education
The first step to become a phlebotomist is to get a high school diploma or the equivalent (like GED). To go to step 2, training, you need to be 18 years old and have completed high school.
Step 2: Training
The next step in your path to become a phlebotomist is to be trained in the area. There are several schools that offer phlebotomy programs.
Usually the phlebotomy training courses are short (less than one year) and will have a theoretical component (classroom training) and practical component (hands-on training). Typically you will learn how to draw blood, different techniques, how to dispose equipment, anatomy, lab safety, legal component, etc.
Step 3: Certification
After completing a phlebotomy course you should get your certification. Certification it is not mandatory in most states, but usually an employer will prefer a certified phlebotomy technician to a non-certified. There are different organization that will offer certifications, make sure that you comply with the requirements of the organization that you select.
Step 4: Employment
The last and most important step in to find a job as phlebotomist. Currently there is a high demand on the area, so it shouldn't be difficult to get a job, but you need to be active in your search. As a phlebotomist you will be able to work in different organizations, such as labs, hospitals, clinics, healthcare facilities, etc.
Some things to think about if you want to become a Phlebotomist
In your pursuit to become a phlebotomist there are several factors to take into consideration. As with any career option, it is critical that you look at the skills necessary for success. These skills go beyond the mastery of phlebotomy techniques.
In addition to having a complete grasp of phlebotomy itself (which will be achieved through training and experience), several other aptitudes are also requisite. Since the certified phlebotomist so often has to interact with patients, it is important that you possess "people skills". The ability to communicate well, along with a genuine sense of compassion, will go a long way in contributing to the success of the certified phlebotomist. Additionally, patience and professionalism are indispensable ingredients.
Learn more about the intangibles required for good venipuncture technique
If you feel that you have, or can develop, the intangible skills required, your next step on the road to become a phlebotomist is to assess the demands, rewards, and risks of a career in phlebotomy to see if it is a good fit for you.
Discover The Good, The Bad, and The Ugly of Phlebotomy
If you know anyone who is already working as a certified phlebotomist, seek them out and ask them about the profession. Offer to take them to lunch or coffee and invite them to share as much information as they are comfortable with. Find one or two phlebotomy forums and read the posts and ask questions of the members. Learn all you can about the pros and cons of the profession and then decide if it is right for you.
If your research leads you to conclude that a decision to become a phlebotomist is the right career path for you, the next step is to check into phlebotomy training programs that might be available in your area. Look thoroughly at the program options. Some training classes are short term programs designed to get you off to as quick a start as possible. Others are more robust and will take longer to complete.
If possible, select a program that culminates in being certified by one of the national certifying agencies. Also, check to ensure that the course being taught is in line with the standards of the Clinical and Laboratory Standards institute (CLSI). At a minimum, look for a certificate awarding program.
With diligence, determination, and perseverance you will soon realize your goal to become a phlebotomist and enter the challenging and rewarding world of phlebotomy.