Phlebotomy Schools In Illinois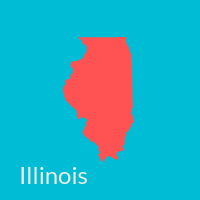 Phlebotomy Certification Illinois
The state of Illinois recommends applicants to become certified although is not a mandatory requirement to be certified. Because usually employers will prefer phlebotomists with certification, it's highly recommended to get your phlebotomy certification in Illinois.
Illinois Schools with Phlebotomy Training Programs:
The following schools offer some sort of phlebotomy training in the state of Illinois. All of the schools listed here are accredited programs and the course offerings should lead to an opportunity to sit for a phlebotomy certification exam. Contact the school for detailed information regarding their phlebotomy training program.
Name
Address
Phone
Course
Black Hawk College
3319 Spring Street, Suite 103
Davenport, IA 52807
2526 41st Street
Moline, IL 61265
563 421 0660
309 281 2700
Train in the basic blood-drawing procedures for venipuncture and capillary puncture techniques. You will have an understanding of the skills, knowledge and level of responsibility required to perform competently as entry-level phlebotomy/lab personnel.
National Center for Competency Testing (NCCT), offers the National Certified Phlebotomy Technician (NCPT) certification exam, upon successful completion of the class.
City Colleges of Chicago-Malcolm X College
1900 W. Van Buren St. Chicago, IL 60612
(312) 850 7375
This is a one-semester certificate program which leads to certification through the National Phlebotomy Association (NPA), the American Society of Clinical Pathologists (ASCP), and the American Society of Phlebotomy Technicians (ASPT).
City Colleges of Chicago-Wilbur Wright College
226 W. Jackson
Chicago, IL 60606
(773) 481 8096
The Accelerated Phlebotomy curriculum prepares individuals to obtain blood and other specimens for the purpose of laboratory analysis in a seven month time frame. Course work includes proper specimen collection and handling, communication skills, health and safety, anatomy and physiology and medical terminology. Students successfully completing the Accelerated Phlebotomy Program may qualify for employment in hospitals, clinics, physician's offices, and other healthcare settings. Successful completers will be eligible for national certification as Phlebotomy Technicians through the American Society of Clinical Pathologists (ASCP).
College of DuPage
425 Fawell Blvd.
Glen Ellyn, IL 60137
(630) 942 2259
The Phlebotomy/EKG certificate program at College of DuPage is an intensive, two-semester curriculum with classes in Basic Phlebotomy and Basic EKG the first semester, followed by hands-on clinical experience during the second semester. This certificate is designed for students interested in taking technical courses for immediate entry into a field of employment, and for current health care workers who would like to update their phlebotomy and EKG testing skills.
College of Lake County
19351 West Washington Street
Grayslake, IL 60030-1198
(773) 714 8880
CLC's Phlebotomy Certificate Program prepares students with entry-level competencies as phlebotomists for employment in hospitals, clinics, blood donor centers and other health care settings. Students will develop skills in performing phlebotomy procedures, specimen collection and processing.
Completion of the program prepares students to take the national certification exam.
Elgin Community College
1700 Spartan Drive
Elgin, IL 60123-7193
847 697 1000
Students who complete CLT 101 are qualified to work as phlebotomists in hospitals, outpatient clinics, commercial labs, blood centers, physicians? office labs, and others. Students who complete both CLT 101 and CLT 120 receive a basic vocational specialist certificate from ECC, and are eligible to sit for a national phlebotomy certification exam.
EnVaNa Healthcare Training Center
500 E. Ogden Ave. Suite 208
Naperville, IL 60563
630 269 7431
The Phlebotomy Technician Training Program length is 60 hours (50 hours theory,10 hours applied experience). You will perform a minimum of 20 successful unaided venipuncture collections and 5 successful unaided capillary collections. Instruction in a variety of collection techniques including vacuum collection, syringe and capillary skin-puncture methods.
Qualified candidates will be scheduled to sit for the Competency Examination administered by National Healthcareer Association and earn the title of Certified Phlebotomy Technician (CPT).
Cost: $900
Harper College
1200 West Algonquin Road
Palatine, IL 60067
847 925 6707
This 8 credit-hour certificate program consists of lectures, student laboratories and a clinical internship arranged in a local health care facility. This certificate is useful for a number of health care professionals interested in developing the skills and techniques involved in the collection of blood from patients or donors for diagnostic testing. In addition, ethical and legal responsibilities, effective communication skills and safe practices are studied. Phlebotomists are employed in hospitals, hospital laboratories, physician offices, clinics, blood banks, commercial laboratories, or similar facilities. Phlebotomy has become a fast-growing health occupation and is considered a profession with a standardized educational curriculum and accepted routes for national certification.
Illinois Central College
1 College Drive
East Peoria, IL 61635-0001
(309) 999 4600
(309) 999 4601
The program consists of lecture, student laboratories and a clinical phlebotomy practicum arranged in a surrounding health care facility.
Successful completion of the program will allow the graduate to seek employment as a phlebotomist and be eligible to take an appropriate phlebotomy certification examination.
Illinois Valley Community College
815 North Orlando Smith Road
Oglesby, IL 61348
(815) 224 0360
This course consists of a lecture and laboratory practice of the proper collection of laboratory specimens. It includes terminology, anatomy and physiology appropriate to phlebotomy, phlebotomy techniques, safety, quality control, professionalism and communication techniques. It provides exposure to the necessary skills to effectively function as part of the medical laboratory-healthcare team.
This course consists of 100 hours of clinical practice of phlebotomy at an affiliated laboratory site. This supervised training will emphasize competency in blood collection, specimen handling and processing, safety, quality control, and communication skills necessary to function as a member of the medical laboratory health care team.
Joliet Junior College
1215 Houbolt Road
Joliet, IL 60431-8938
(815) 280 2463
(815) 280 2336
Students completing the Certified Phlebotomy Technician course (NA 120) will attain through lecture, demonstration and clinical experience, all the necessary skills for entry-level placement as a phlebotomist.
After successful completion of NA 120, the student will continue in Phlebotomy practicum (NA 123). NA 123 provides clinical experience, enhances the classroom component, and enables the students to gain confidence in seeking employment as a phlebotomist in hospitals, clinics, laboratories, and/or doctor's offices. A minimum of 150 venipunctures and 120 hours is required in the clinical area. Students will be supervised by a hospital preceptor in the clinical area.
Lincoln Land Community College
5250 Shepherd Road
Springfield, IL 62794-9256
217 524 6749
The phlebotomy training is a 160-hour course designed to prepare students for entry level competencies as phlebotomists. Phlebotomists are skilled health care professionals who have been trained to handle and process blood and other specimens for laboratory analysis using venipuncture and micro collection techniques. Upon completion of the course, students will be prepared to work as a phlebotomist and be eligible to take the ASCP certification exam.
Cost: $2,300
Moraine Valley Community College
9000 W. College Parkway
Palos Hills, IL 60465
(708) 974 5583
The program's mission is to educate and train students to meet standards of practice for entry-level phlebotomy professionals. Faculty will use appropriate methodologies to promote student learning.
Student learning will emerge from the cognitive (intellectual), psychomotor (physical), clinical and affective (social, emotional and ethical) elements of phlebotomy as defined for the entry-level practitioner by the National Accrediting Agency for Clinical Laboratory Sciences (NAACLS) and the Moraine Valley Community College Phlebotomy Program Advisory Committee. Student learning will occur within an intellectual atmosphere that promotes continuing education as part of professional dedication and lifelong learning and within an ethical framework for student conduct in both the classroom and clinical settings.
Oakton Community College
Des Plaines Campus:
1600 East Golf Road
Des Plaines, IL 60016
Skokie Campus:
7701 North Lincoln Avenue
Skokie, IL 60077
847 635 1844
The phlebotomy certificate program trains students to perform phlebotomy procedures, the collection of blood for diagnostic testing. The curriculum at Oakton complies with standardized educational curricula and accepted routes for national certification, in preparation for qualification by national and state agencies. This certificate is a valuable credential for health care professionals, including nurses.
Olney Central College
305 North West Street
Olney, IL 62450-1099
618 395 7777
The Phlebotomy certificate program teaches skills and techniques to students who are interested in a variety of health care professions. Students learn techniques for the collection of blood from patients or donors for diagnostic testing. In addition, ethical and legal responsibilities, effective communication skills and safe practices are studied.
Richland Community College
One College Park
Decatur, IL 62521
(217) 875 7211
This course is one semester in length and includes classroom, laboratory, and clinical experiences. After successful completion of the course and meeting the required number of blood draws, a student is provided a Certificate of Completion from the instructor. Along with required work experience, the student may be eligible to apply for national certification at a later time.
South Suburban College
15800 South State Street
South Holland, IL 60473-1200
(708) 596 2000
The phlebotomy courses are designed to provide students with information about the health care delivery system; collection of materials and equipment; venipuncture and capillary puncture techniques; specimen transport and processing techniques; quality assurance and safety techniques; basic concepts of communications, and medical and legal implications of blood collection. Students will be required to complete 72 hours of classroom and 120 hours of clinical experience in a health care environment.
Southwestern Illinois College
Belleville Campus:
2500 Carlyle Ave.
Belleville, IL 62221
618 235 2700
The Southwestern Illinois College Phlebotomy certificate program provides training in phlebotomy, which is the practice of drawing blood from a person's veins for therapeutic or diagnostic measures.
This is a five-credit-hour certificate program which can be completed in one semester. The phlebotomy curriculum includes basic phlebotomy procedures, at the college settings, followed by 120 hours of supervised clinical experience at a hospital.
Cost: $1,136.75
Stars Academy School of Phlebotomy
8077 W. 95th Street
Hickory Hills, IL 60457
708 233 0590
his program meets the needs of students with no prior knowledge or experience in Phlebotomy. It also provides training consisting of hands-on lab time.
The objective of this program is to prepare students with adequate knowledge needed to perform duties and responsibilities of a Phlebotomist, and to prepare them for the following Certification Exams.
Cost: $1,600
Waubonsee Community College
Aurora Downtown Campus:
18 S. River Street
Aurora, IL 60506-4134
Aurora Fox Valley Campus:
2060 Ogden Avenue
Aurora, IL 60504-7222
Plano Campus
100 Waubonsee Drive
Plano, IL 60545
Sugar Grove Campus:
Route 47 at Waubonsee Drive
Sugar Grove, IL 60554-9454
(630) 801 7900
(630) 585 7900
(630) 552 7900
(630) 466 7900
The phlebotomy technician certificate program provides a foundation for possible transition into other health care careers such as medical assistant, medical lab technician or medical technologist.